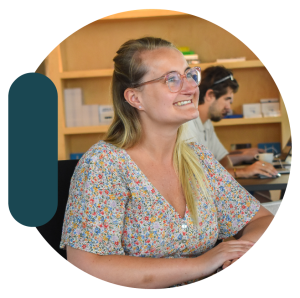 Sofie - Ambitieuze Allround digital en e-mail marketeer
Ambitieuze digitale en e-mail marketing manager die een passie heeft voor digitale marketing in zowel B2B als B2C sfeer. De combinatie van + 3 jaar ervaring en constante leergierigheid, maakt haar een meerwaarde voor elk bedrijf dat vooruit wilt.
Opleidingen en Certificaten
DIDIOM – Digital Marketeer @ Arval
E-mail marketing: Content & Lay-out | Rapporteren, analyseren & optimaliseren (Eloqua)
DIDIOM – Allround Digital Marketeer @ Cochlear
Allround digital marketing management – Social Media Management (Organic & Paid) | SEA | E-mail marketing (Marketo) | Analytics | Tracking | Rapporteren | LinkedIn Ambassador programma beheren (Apostle) | Copywriting: Nieuwsartikels
DIDIOM – E-mail Marketeer @ Würth
E-mail marketing: rapporteren, optimaliseren, content creatie & lay-out (Inxmail)
DIDIOM – Allround Digital Marketeer @ Mon3aan & Finsolution
Social Media Management (Facebook, LinkedIn & Instagram) | Website beheer: Onderhoud & content creatie | Analytics: Google Analytics en Looker Studio | Lancering Finsolution | E-mail marketing (MailChimp)
DIDIOM – Allround Digital Marketeer @ Bekina
Bekina Boots, BeSealed, Bekina Compounds, Bekina Indurub en Bekina Corporate
Allround digital marketing management – Social media management: Facebook & LinkedIn | E-mail marketing (Hubspot) | SEO optimalisatie | SEA | ; Social media advertising | Google Analytics: analyseren, optimaliseren en tracking | Looker Studio: creatie, optimalisatie en opvolging
Project Manager @ RetailHub (RetailDetail)
Project manager: manager van partners, klantrelaties beheren & onderhouden | Manager van The Knowledge Hub | E-mailmarketing
Marketing Manager @ Lemon Companies
Allround marketeer: lanceerde en beheerde het marketing department.

Junior Marketing Manager @ Duval Union Innovative Marketing
Innovatieve marketingcampagnes bedenken en presenteren aan A-klanten | Strategische marketing consultancy | Project management voor meerdere A-klanten | Workshops creëren, presenteren en superviseren | Desk research en concurrentie analyse (Statista, SimilarWeb
Dit vind je waarschijnlijk ook interessant
Laten we samen wat bouwen
Meer weten over onze diensten? Benieuwd naar welke meerwaarde ons team kan bieden voor jullie digitale roadmap? Of gewoon een open vraag? Aarzel niet om contact met ons op te nemen.